The cool thing about Home Depot and a few other businesses in my community sometimes is that they are willing to beat the prices of other stores in order to win your business. Plus, they will subtract an additional five percent if you can find the price lower elsewhere on the same product. They understand the value of making a couple bucks as opposed to losing your business all together. But, the only key here is the other store must be on their competitor list.
When businesses turn people away, because they don't want to negotiate lower prices, they more than likely lose more than just that one sale.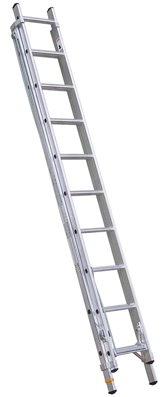 I needed to figure out exactly which ladder I wanted to purchase. I shopped at Home Depot first, because I knew they would eventually beat any price I could find. Then, after I figured out which ladder I wanted, I shopped everywhere else for the same exact type of ladder. I exhausted all of my resources by calling every place in the phone book (Internet) that could possibly sell ladders. Then, I called Home Depot back after I did find one place whose price was lower than Home Depot's.
I took the lower price I had found over to the manager of Home Depot and he matched the price of the ladder at the other store and even beat it by five percent, just as Home Depot promises. The manager called the other store to verify the price.
I do what it takes to save money, because I understand where it will get us in the long run. I enjoy the challenge and I love knowing that I can keep a lot of money in my pocket by taking a few extra steps that most people are not willing to take.
It only took me about a half hour of shopping around and I saved about $10. That's like earning $20 per hour. That's also ten bucks that won't be coming out of my pocket, and ten bucks that I will not have to work for on my regular job, and all because I made saving money a part-time job.
Whenever it comes to spending more than $50 bucks, I always work extra hard to save as much as possible. I work hard for my money and I know that every penny I save is a penny I don't have to work for at my regular job.
If you want to learn more incredibly cool money saving principles to help open up a whole new world of saving money to you, be sure to read my money saving books you can learn more about by reading on my about page found in the link above in the main navigation bar.
As always, I hope I can save you a lot of money, and please reach out to help your friends and family by posting this link on your Facebook wall, or by clicking on the social links on the left side.