In the cool spring and fall here in Arizona, we like to take a few hours on weekends and check out garage sales. It's something to do, cheap entertainment and fun to see what people are selling, and sometimes we even make an exciting purchase for a huge savings. We find unbelievable bargains and I also like negotiate the price on some items if people are asking way too much.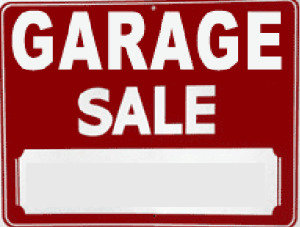 One thing I found when visiting garage sales is that some people will price their merchandise too high. What that tells me is that they are not quite ready to let it go. If you visit enough garage sales, you will see what I'm talking about.
Sometimes people are willing to negotiate and sometimes not.
Sometimes we walk into garages sales where you can tell that the people can't wait to get rid of their stuff by the way it's priced.
Some days I feel like negotiating and some days it's not necessary because the prices are so low. If I feel that the price they have marked is rock bottom I will just pay it, like a brand new T-shirt I bought for .50 cents. If it were marked a dollar, I probably would offer less.
Below is a list of some of the great items we've found. Some of the items are accompanied with a short story.
Garage Sale Items We Saved Money On
Brand new Ryobi gas powered weed whacker
Paid $15.
It looked brand new, but didn't work and I took it apart when I got home and found one loose nut, fixed it, and then it worked great. I've been using it for 12 years now with no trouble. Buying it new would have cost $160.
Filing cabinets
Paid $10.
These were like new and they were the quality kind that you would pay $150 for in any office store.
New T-shirts
Paid .50 cents
People wear them once or twice and they just sit around, so they get rid of them.
Office chair
Paid $10
It was on my list of things to buy and this one was like new. They just wanted to get rid of it because they bought another one.
Extension golf ball retriever
Paid $1.50
I retrieved hundreds of golf balls with it and I never buy golf balls because of it. I know I have saved hundreds of dollars already with this great find.
Brand new bath sized towels
Paid .50 cents each
Use them to dry off the cars after washing.
New casual dress black shoes
Paid $15
Price tag was still on them and they were never worn. New price was $60.
Expensive board games
Paid $1 each
Door Bell
Paid $1
Our Doorbell was broke and I wasn't in any hurry to get another one until I knew I could make a good decision on the best one for the best price.
Mountain bikes
Paid for 2 @ $10 each
They were like new and I couldn't believe that they were priced at $10. It always blows me away at what you can find on garage sales. We've been riding the same bikes for years now.
I want you all to know about how good it feels to be in a position where you don't have to worry so much about saving money, and so you'll know what to expect when you put forth the efforts it takes to get into good financial shape.
When you practice financial principles for as long as we have, you can't help but to put yourself in a great financial position. When you finally get into that comfortable financial position after taking the time it takes to save money at every corner over the years, you will "just know" when you are in great financial shape. Everything will come together financially and all the work you invested in getting there will be time well spent. It will make you feel good to look back and know that all of the time was well worth the effort.
What's nice about all the extra work and focus that my wife and I have put into saving money initially is that we don't worry as much anymore about saving money in as many areas as we used to worry about.
Even though the economy is hurting a lot of people at the time I am writing this, gas prices are sky high, and real-estate prices are gouging people, we no longer spend the usual 85 percent of our time trying to save money. We probably focus on saving about 50 to 60 percent of the time now. Although I do practice saving principles and techniques 100 percent of the time when it comes to big ticket items, and I recommend you do the same. That means anything that cost's more than $100, be sure to do your homework and exhaust all of your avenues.
Getting into great financial shape is the same as getting into great physical shape; it takes more of a focus in the beginning, and then after you've reached your goal, all you have to do is maintain those good habits just to stay in shape.
The important factor in saving money is to remember that when you need to spend the big bucks on something, do as much homework as possible to save as much money as possible.
You can read more about me and my quest to help you save a lot of money by checking out my about page from the link above.