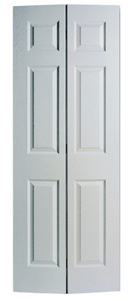 If you think those famous name brand stores like Home Depot have the lowest prices, think again. I saved over $10 per door for three interior doors by shopping around.
After figuring out the name brand, style and size of doors I needed, I called every place in the phone book (Internet) that dealt with selling interior doors and I found a store with incredibly low prices.
It only took about an hour of my time to make some phone calls. I was so surprised about the price being so low that I had to ask them twice if the price was right.

It pays to take the extra time to call every place you can after you figure out exactly the style of doors you want, or really any product you are looking to purchase.
Check every corner and when you think you've called them all, find more stores to call. It really pays to go that extra mile when it comes to saving money.