Make note of the red outlines in the image screen shot below. I will explain the importance of those two red highlighted areas.
This is the latest email scam letter I just received. As you can see, it looks somewhat professional and can take anyone by surprise.
Avoid The Stress
Receiving this type of email for the first time can be alarming, cause unwanted stress and have you wasting a lot of time trying to figure out what's going on … that is if you didn't actually click on any of the links in the email.
If you ever receive an email like this, don't panic. It's more than likely a scam just trying to get you to click on their links.
What Could Happen
If you click on any of the links on this email, it will more than likely take you to a webpage that will infect your computer with all kinds of malware that can steal your private information by tracking your keystrokes.
There are a number of ways this type of email can take advantage of you, but the important thing is to just delete them and move on.
Checking The Links
All you need to do is hover over the links to see the pop up image that shows the link. Inside of the red outlines in the image below, you will notice the links do not match up with the QuickBooks company. The links are actually somewhat dumb, like goldenfruit.it.
If your browser does not allow you to see the link when hovering over them, all you need to do is right click and copy link location and then paste the link in a notepad document to see the link address.
Do not paste the link in a browser or you risk having your computer infected.
Fair Warning
Sometimes the links will actually have the name of the company in them. Still, do not click on the links.
What To Do If You Are Not Sure
If you are really not sure about the email, first call your credit card company to see if there have been any charges, and also check your bank accounts to make sure there are not extra charges there either.
You can also contact the company to see if they know anything about this type of email scam.
Open a new browser and do a Google search for the company in question and find a way to report email phishing scams on their website.
Rule Of Thumb
Rule of thumb … if you don't know anything about the charge, it's more than likely bogus.
There is nothing worse than losing more than a week of time and hundreds of dollars paying someone to disinfect your computer. I've been there and it's not fun at all.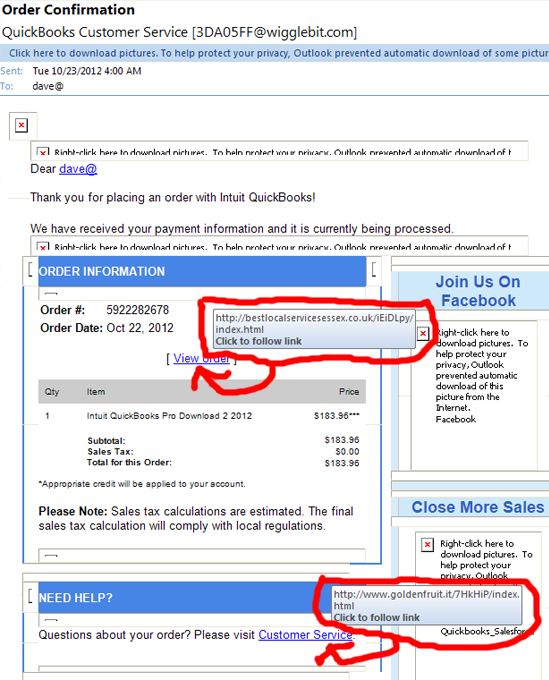 If you are here on my blog for the first time, please check out the "About" page by clicking on the link above to learn about who I am and why I am working hard to help people learn more about scams and money saving tips.