We have two kitties and I built them one of those cat play centers so they can climb around and have fun.
I went to the carpet store and I bought some cheap carpet remnants they had left over from an installation job.
I already had a bunch of wood I found in the alley and on job sites. The only other things that I bought were the rope for the scratching posts and glue to hold the carpet and rope in place.
It took me a day on the weekend but I figure I was able to save a load of money and I built a large cat play center that beats anything you can buy in the stores.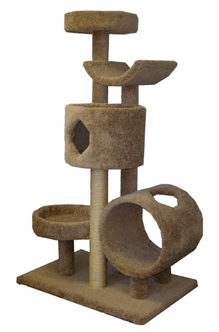 Total cost for materials was about $25 and if you were to buy a cat play center like the one I built, it would probably cost about $250. I based the price on other much smaller cat play centers I've seen in stores.
The only major cost was my time, but I had fun creating my own idea of a cat-climbing center at the same time.
That's the nice thing about building and fixing things yourself is that you get the satisfaction of completing it yourself.