An opportunity popped up and I made $1,100 for two days of easy work.
This is an absolute humdinger of a saving success story and it's worth the time it takes to read it because it could save you thousands of dollars. I not only saved our homeowner's association a lot of money, I earned a lot of money in the process.
I'm writing this little financial success story to show you that always keeping your eyes open for opportunities to make or save money will absolutely get you ahead financially.
If you're ever in the position of having to work with a general contractor on a home repair or remodel project, consider being the general contractor yourself and you will save a ton of money.
I want to point out something important about general contracting before I actually get into the saving story. Many of these so-called general contracting jobs are easier than you think. Even though it may seem like you would need a general contractor to oversee home repairs or remodels, you can probably do it yourself. Just take a little time to educate yourself and the savings will be well worth your effort.
There is a perception or illusion that jobs that normally require a general contractor will be more difficult than we think. If you think about it, in any job (career) you've ever had, you needed to learn what steps to take in order to efficiently complete your daily tasks. In other words, you had to go through a learning process, but you made it through and in most cases you were able to handle the job with ease. In handling a general contracting job yourself for any home repair or remodel, the same process is required.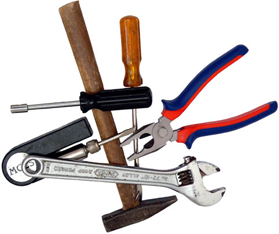 If you throw yourself into the job and make a commitment to yourself that you are going to complete it, you can go through the learning process and come out the other side wondering why you thought it was so difficult in the first place.
You might have to ask a few questions in the beginning when you are getting bids so that you can educate yourself on the job you need done, but the time spent is well worth the education and savings and it also is a confidence builder as you learn you can handle it yourself. Since you have to get bids to do the jobs anyway, you can ask questions from the people who come to give you bids. Keep in mind that you can get as many bids as you want and get an education in the process. People who give you bids for jobs they want are always helpful and give you information to help educate you about what needs to be done and why.
Let's get back to the success story. We were in the process of selling our condo and had to have the bedroom foundation floor replaced. It seems that a root from one of the trees in the front yard had grown under the floor and pushed the floor up about three inches, which left a huge buckled up crack running through the middle of the floor. It was very noticeable even through the carpet.
Luckily, the money for the floor repair didn't have to come out of our pocket, because we didn't actually own the ground that our condo was on, so the homeowner's association had to foot the bill. If this cost did have to come out of our own account, I know now that we would have saved a lot of money, as described below.
The homeowner's association needed three bids from general contractors to replace the floor. After getting the first two bids, the property manager at the homeowner's association told me the estimates were quite a bit higher than they expected. I decided to offer my own services as the general contractor for the job and see if I could save the association some money and possibly make a little myself.
The homeowner's association decided to take my offer, so I made some phone calls and got some bids for the work. The first part of the job was where we had to have a concrete cutting company cut the floor in small squares and remove it. The other bid I got was to have a cement company poor the new floor. Everything went smoothly.
After making a few phone calls and getting bids from the sub-contractors, I turned in my bid of $3,500 to the homeowner's association. They told me that the other two bids were over $5,000 and they wanted to be sure my bid included everything that needed to be done. I assured them of the work and they gave me the okay. The job went smoothly and the homeowner's association paid me right away. After paying the sub-contractors, I kept $1,100.
The whole job took two full days (16 hours) between phone calls and overseeing the workers. That means that one of those general contractors would have profited over $2,600 for two days' work had they gotten the job. That equals $162 per hour. When I talked to the other high priced general contractors, they made the job sound like it was going to be this complex project and that it would take a lot of time, but I found out first-hand that it wasn't the complex job they said it would be.
After doing this general contracting job myself, now I know I will be doing all of my own general contracting in the future, even if the seems to large to handle.
Think outside the box when it comes to spending money on home improvement projects or repairs. Don't be so quick to say "okay" to high-priced contractors, when the opportunity of turning a situation into your own financial favor could be knocking at your door, by contracting the work yourself.
If I had a job working for someone else at the time this project came up, I would have taken the time off from work to get this job done because of the profit potential.