This is a great saving success story that saved me over $200; and many of you will have the opportunity to take advantage of this savings technique a minimum of once or twice in your lifetime.
My truck died on the road and I had to call AAA for a tow. I told the tow truck driver what the symptoms were and he said it was probably the alternator. I had other vehicles in the past years that showed the same failure signs my truck was showing now and sure enough it was a bad alternator back then too.
I was planning on having my truck towed straight to Sears where I bought the last battery, because I know that when the alternator goes it can kill the battery. I also know that if the battery is dying, it can kill the alternator. When the tow truck driver reminded me that it could be the alternator, I decided I should have my truck towed home so I could do my homework first and call around for prices on getting a new alternator.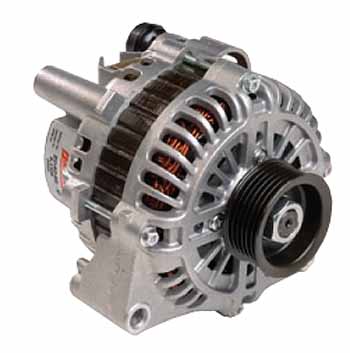 I could feel my instincts wanting to kick in and get it fixed quickly by just taking it straight to Sears. I had to remind myself that I didn't need to be in any hurry and I just needed to be a little creative about getting my truck fixed, but also at the same time be able to continue on with my daily routine.
If I had acted on my first instincts, this job may have cost me $200 to $300 more than it did. Since I teach about the basic principles of saving money, I was able to remind myself to slow down and make sound, creative decisions to help put me in a better position to save as much money as possible.
After making a few phone calls to mechanics, asking a lot of questions and hearing the same story from each of them about the alternator, I decided my best money saving option was to have the alternator rebuilt.
I found a place in the yellow pages that said "Alternators", "FREE INSTALLATION". I called and asked how they operate, and they told me they take out the old one, rebuild it and put it back in for $109 total with a lifetime warranty. I pinched myself and asked if there was some catch involved. I asked how they could make money that way. They said it only takes a few minutes to take out the alternator and rebuilding it on the spot doesn't cost that much.
The absolute cheapest price I could find to have a mechanic to do the job, before calling this dream place, was $265. Most of the prices I found were in between $300 and $400 for parts and labor.
After hearing how easy it was to replace the alternator, I ended up replacing the alternator myself. It was so easy I couldn't believe it! It only took me 20 minutes to take out the old one. I took it to that low priced place and the mechanic said he would knock off another $20 because I supplied the labor.
In the meantime, we took my battery to Sears and sure enough it was bad too, just like they said. I was able to use the warranty on that, which saved even more money.
Any regular mechanic would have charged $75 to $100 for labor to replace the alternator and the cheapest alternator I could find was $150 from a mobile car repair guy. The mobile repair guy would have also charged a service fee of $75 for coming to my vehicle, but he told me he would discount that fee to $45. Total cost, had I gone with the mobile repair guy, would have been $270 plus tax for replacement on the alternator… and this was even a really good price.
I ended up spending $105 total for the replacement alternator, tax and an environmental disposal fee; and it only took me another 20 minutes to put the alternator back in my truck.
It just goes to show you that there are many different options for saving money available if you are willing to do your homework and a little legwork.